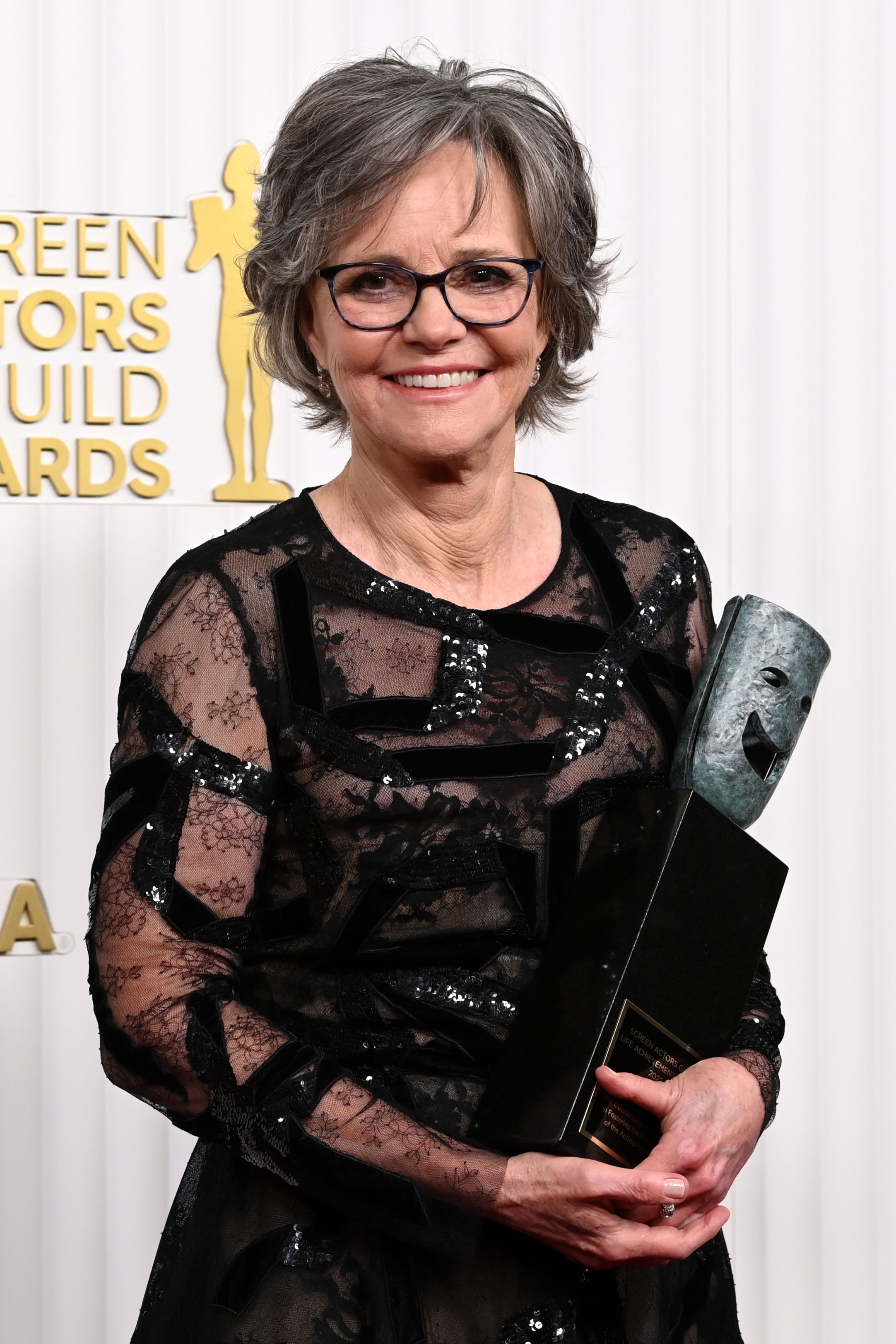 58TH
life achievement
recipient,
2022
Sally Field
With a career that has spanned over five decades, Sally Field is a two-time Academy Award and a three-time Emmy Award winning actress, who has portrayed dozens of iconic roles on both large and small screens.  Her extensive film credits include performances in Robert Benton's Places in the Heart, for which she received both the Academy Award and a Golden Globe, and Martin Ritt's Norma Rae, receiving not only the Academy Award but also a Golden Globe, the New York Film Critics prize, the National Board of Review Award, the Los Angeles Film Critics Award, the National Society of Film Critics honor and Best Actress at the Cannes Film Festival.  For her performance as Mary Todd in Steven Spielberg's Lincoln, she was given the New York Film Critics prize for best supporting actress and was nominated for a Golden Globe, SAG Award, BAFTA and an Academy Award.  Ms. Field has also received Golden Globe nominations for her work in Smokey and the Bandit, Absence of Malice, Kiss Me Goodbye, Steel Magnolias and received both SAG and BAFTA nominations for her work in Forrest Gump.  Her other films include An Eye for An Eye, Mrs. Doubtfire, Soapdish, Not Without My Daughter, The End, Hooper, Stay Hungry (her first major film role), and Hello, My Name is Doris.  She starred in both Punchline and Murphy's Romance, which were produced by her then production company, Fogwood Films.  Sally most recently appeared in director Michael Showalter's Spoiler Alert and stars opposite  Jane Fonda, Lily Tomlin and Rita Moreno in the upcoming comedy 80 for Brady.
Read More
Sally Field
×
Born in Pasadena, California and raised in a show business family, Ms. Field began her career in 1964 in the television series Gidget.  She went on to star in the The Flying Nun in 1967 and eventually starred in three television series by the age of twenty-five.  She received Emmy Awards for her title role in the landmark miniseries Sybil, and for her performance as a bi-polar mother on ER.  For her role as "Nora Walker" on the ABC series Brothers & Sisters, which ran from 2006 to 2011, she received an Emmy Award, a Screen Actors Guild Award, and two Golden Globe nominations.  More recent television appearances include Winning Time, Maniac and Dispatches From Elsewhere.
In 2002, Ms. Field made her Broadway debut in Edward Albee's The Goat and in 2004 received rave reviews for her role as "Amanda" in Tennessee Williams' The Glass Menagerie at The Kennedy Center.  In 2017, she revisited that role on Broadway under the direction of Sam Gold at which time she was nominated for a Tony.   In 2019 Sally made her West End debut  to critical acclaim in Arthur Miller's All My Sons opposite Bill Pullman at the Old Vic.
In 2012, Sally was inducted into the American Academy of Arts and Sciences and in  2015 she was honored by President Obama with the National Medal of Arts.  In 2019 she received  the prestigious Kennedy Center Honor.   
Sally's memoir, In Pieces, was published  in 2018  and became an instant New York Times best-seller.
Read Less