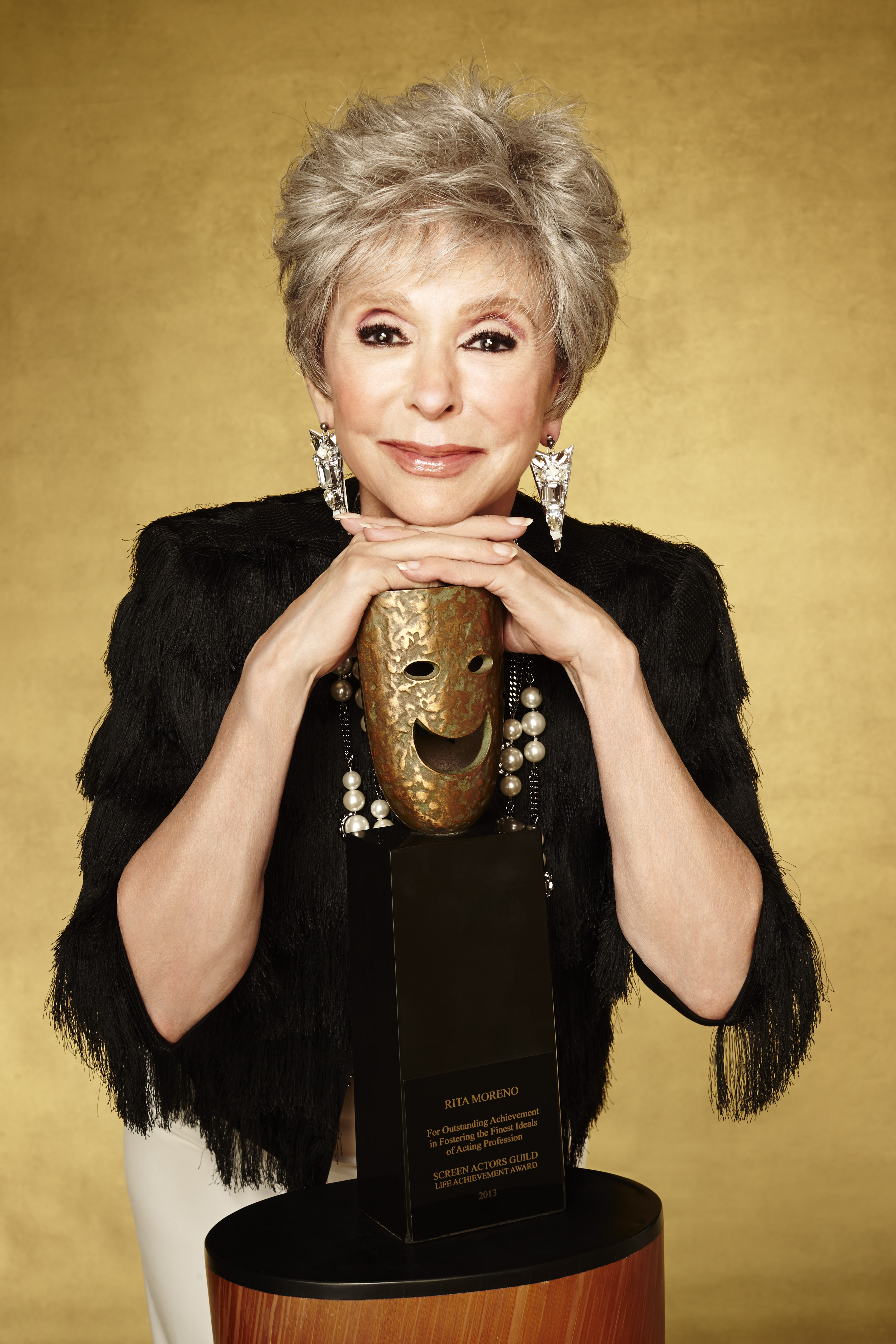 50th
life achievement
recipient,
2013
Rita Moreno
Rita Moreno, Screen Actors Guild's 50th Life Achievement Award Recipient.
Nominated and voted on by the union's National Honors and Tributes Committee, the SAG Life Achievement Award is bestowed for outstanding achievement in fostering the finest ideals of the acting profession.
Acceptance speech at the 20th Annual SAG Awards:
Read More
Rita Moreno
×
RITA MORENO: Oh, whoa, I am so f**king thrilled. [laughter] Oh! [applause] Oh, I hope the man with the button was there [laughter] on time. But, Morgan and I want to do a little thing for you. Shall I start?
MORGAN FREEMAN: Start.
MORENO: -ecause I don't know if you remember because you are so ancient.
FREEMAN:  I don't. I don't. That's true.
MORENO: Ssss…
FREEMAN: …AG…
MORENO: A…
FREEMAN: …FTRA.
MORENO: Sss…AG…
FREEMAN: [overlapping] SAG.
MORENO/FREEMAN: [in unison] AFTRA. [applause]
MORENO: Thank you. Oh! Oh… oh, I'm breathless. I'm, I'm so – I'm so bloody happy. Late in the – I'm sorry about that word. Actually I'm not. [laughter] Late in the first act of my career I was recognized with an Oscar. I was 31 and so astonished and surprised, as you saw in the clip. You know, I could only muster, [laughs] "I don't believe it!" I leave you with that.
And now this unexpected honor at 82. But, hopefully… [applause] But, hopefully, it's early in the third act – it's early in the third act of my life. The truth… [applause] The truth is, I still – honestly I still can't believe it. So, let me say this. Hi, Jeremy Renner. No, that's not what I meant to say. [laughter] Ooh!
[singing] "As I approach the prime of my life, I find I have the time of my life. Learning to enjoy at my leisure all the simple pleasures. And so I happily concede… this is all I ask, this is all I need." [applause]
[spoken] And finally, to quote my younger self, "I leave you with this…" Hi Brad. No, that's not what I meant to say. [laughter] I leave you with this… [singing] "So let the music play as long as there's a song to sing and I will be, I will be, younger than spring." [applause]
[spoken] Thank you. Thank you, SAG/AFTRA. Thank you, fellow actors. Thank you. [applause] [ovation]
Read Less