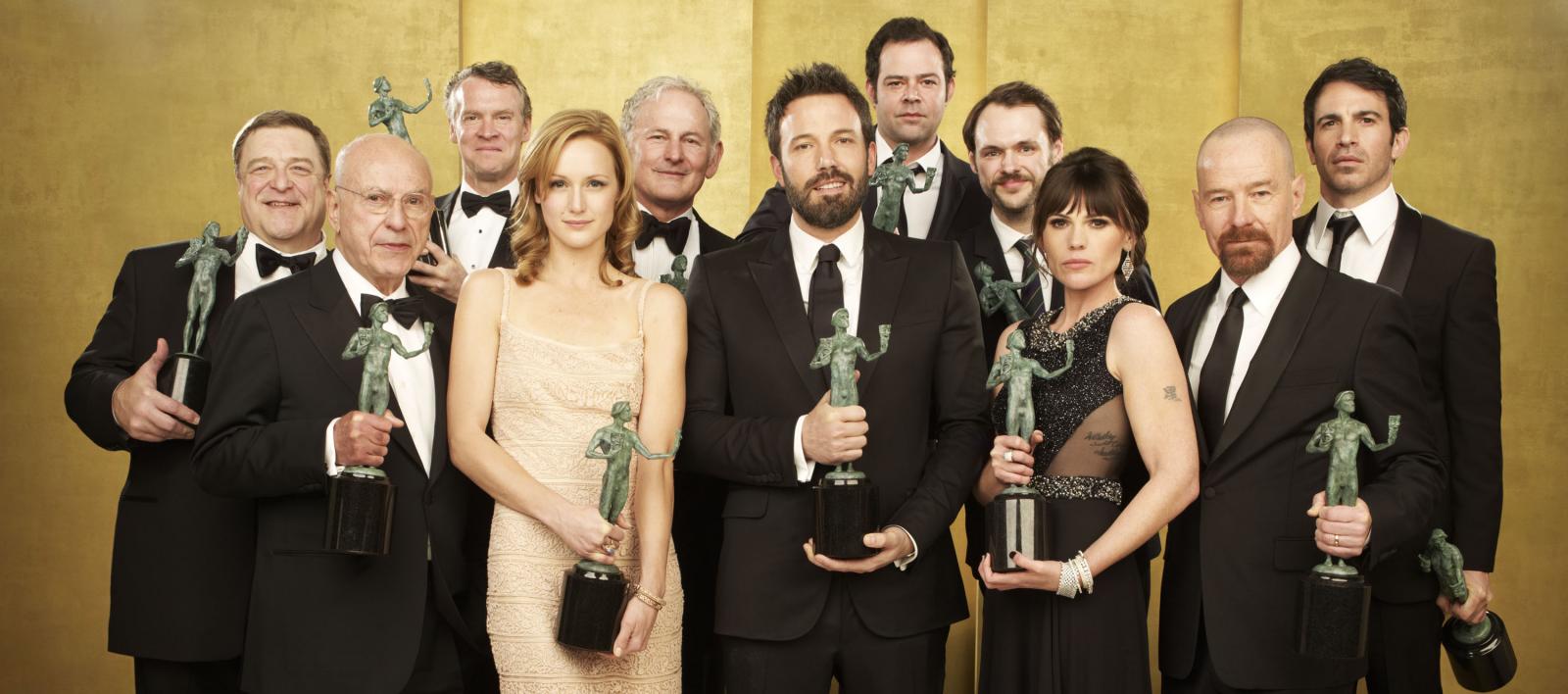 To the delight of everyone, the protective translucent canopy that was in place to keep guests dry on the red carpet during 19th Annual Screen Actors Guild Awards® on Sunday, Jan. 27, 2013, proved to be unnecessary: Rain clouds quickly gave way to rays of sunshine as Actor® nominee Peter Facinelli (from the cast of "Nurse Jackie") and Champagne Taittinger's Artistic Director Vitalie Taittinger opened the nearly 600-foot long red carpet with the Awards' traditional champagne toast.

International media interviewed and photographed the rush of arriving nominees and presenters, many of whom made a point of stopping by the bleacher seats to indulge eager fans with autographs and photo opps. SAG Awards® Committee Chair JoBeth Williams and Committee Member Scott Bakula added to the red carpet excitement by announcing the recipients of the Honors for Outstanding Action Performances by Film and Television Stunt Ensembles during the two-hour tntdrama.com, tbs.com and People.com live red carpet pre-show webcast, which was also carried live for the third consecutive year on the giant CNN Spectravision HD billboard in Times Square. The webcast was shown on Turner's dedicated interactive website "SAG Awards® Central," which featured highlights of #SAGawards social media conversations.

For the second year in a row, SAG Awards® rose to Twitter's No. 1 Trending Topic during the evening thanks in part to the efforts of this year's social media ambassador Busy Philipps (TBS's "Cougar Town"), who had been tweeting non-stop about the show.

After the red carpet gauntlet, guests who entered the Shrine Exposition Center showroom found an elegant black and white theme playing across the art deco stage and at each table laden with silver tableware, crystal glasses and profuse white floral arrangements. As in years past, at center stage hung an oversized screen that showcased the evening's nominated performances and tributes. Lucques Catering prepared two delicious plates for guests to enjoy during the show, including a vegan option, which were complimented by Taittinger champagne, Gallo Signature Series wines and FIJI Water.

Minutes before the telecast, Actor® recipient Jesse Tyler Ferguson introduced a filmed tribute to the philanthropic activities of the SAG Foundation, People magazine and the Entertainment Industry Foundation. People and EIF for the 17th year hosted the evening's post-awards gala and made a generous donation to the SAG Foundation to honor actors' charitable work.

As the Awards' have done since the first show, the ceremony began with a number of "Actors Stories" — this year, seven of them — followed by the presentation of 13 awards for the year's outstanding performances in film and television. It was Alec Baldwin's happy duty to present to SAG-AFTRA's highest honor, the Life Achievement Award, to song-and-dance man and humanitarian Dick Van Dyke. To salute the recent merger of Hollywood's two powerful entertainment unions into the new SAG-AFTRA, Co-Presidents Ken Howard and Roberta Reardon introduced a historical film compilation, while Jessica Chastain introduced an "In Memoriam" montage honoring just some of the many who passed away in 2012. Jude Law announced the evening's last prize: outstanding performance of a cast in a theatrical motion picture.

The SAG Awards ceremony was not only simulcast on TNT and TBS but was also telecast internationally and to U.S. military installations overseas through the American Forces Network Broadcast Center. Once the ceremony finished, eager attendees made their way over to the rich Art Deco-themed post-awards gala produced by Event Eleven and sponsored by People/EIF.

More than 5,000 red roses and 7,000 yards of fabric helped to create a romantic ambiance brightened by two massive custom deco chandeliers. Guests relaxed on plush custom sofas and ottomans and dined on Wolfgang Puck delicacies. Later, they found their rhythm on the dance floor, grooving to tunes spun by DJ Michele Pesche.