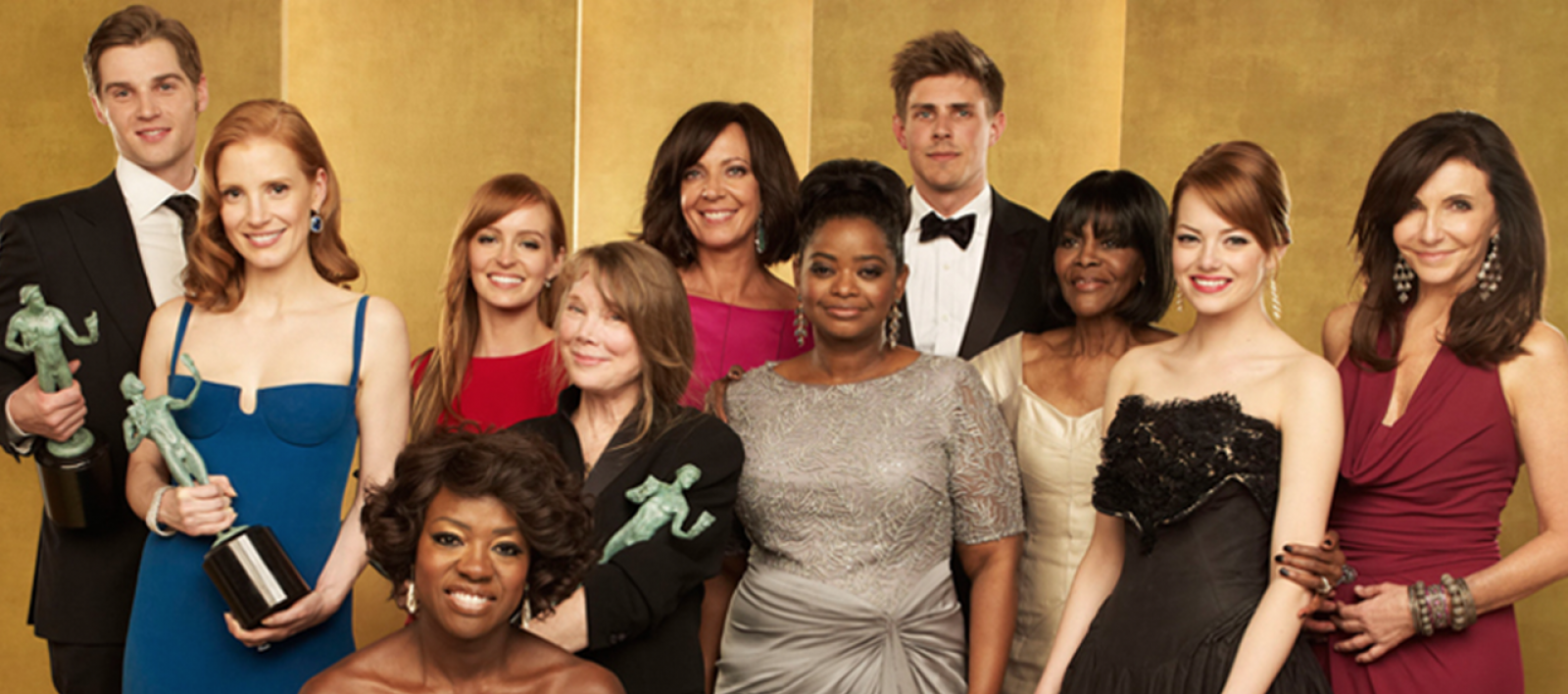 Glorious sunshine brightened the 18th Annual Screen Actors Guild Awards® Red Carpet on Sunday, January 29, 2012, which was opened with its traditional champagne toast by Actor® nominee Matt Czuchry (from the cast of "The Good Wife") and Champagne Taittinger's new Artistic Director Vitalie Taittinger. Hundreds of media from around the world interviewed and photographed the record-number of arriving nominees and presenters who also took time to sign autographs and pose for pictures for some 300 cheering fans as they traversed the nearly 600-foot long red carpet.
Adding to the red carpet excitement was the announcement of the recipients of the SAG Honors for Outstanding Action Performances by Film and Television Stunt Ensembles, made by SAG Awards Committee chair JoBeth Williams and committee member Scott Bakula during the two-hour TNT.tv, TBS.com and People.com live Red Carpet Pre-show Webcast, which was also carried live for the second consecutive year on the giant CNN Spectravision HD billboard in Times Square.
The webcast was shown on Turner's new dedicated interactive website "SAG Awards Central," which featured highlights of #SAGawards social media conversations. Spearheaded by tweets from this year's TNT social media ambassador Regina King, SAG Awards rose Twitter's #1 Trending Topic during the evening.
After walking through a shimmery fabric-lined 'tunnel' and passing an elegant welcome by Green Room sponsor Graff Diamonds, guests entered the Shrine Exposition Center showroom where the opulent stage's metallic-accented architectural details paid homage to the majestic movie palaces of the past. At center stage, a massive silver screen set inside an illuminated surround showcased the performances and tributes that are at the core of the Actor® ceremony.
Gunmetal linens, crystal and silver tableware and multi-textured green and white floral displays echoed the deco stage décor. While guests dined on a trio of entrees artistically prepared primarily from local ingredients by eco-minded Lucques Catering, they sipped Taittinger champagne, Dry Creek Vineyard Wines or FIJI Water.
Minutes before the telecast, Actor® recipient Sofia Vergara introduced a filmed tribute to the philanthropic activities of the SAG Foundation, People Magazine and the Entertainment Industry Foundation (EIF). People and EIF for the 16th year hosted the evening's Post-Awards Gala and made a generous donation to the SAG Foundation to honor actors' charitable work.
Following tradition, the Awards opened with a panoply of "Actors Stories" followed by the presentation of thirteen awards for the year's outstanding performances in film and television, each met by acceptance speeches that were in turn humorous or heartfelt.
The evening's centerpiece was Dick Van Dyke's presentation to Mary Tyler Moore of the Guild's highest honor, its Life Achievement Award, following Van Dyke's personal recollections of his former co-star and a filmed tribute lovingly entitled "A Mary Tale." To salute SAG's regional branches, Jessica Chastain introduced a film compilation spotlighting memorable moments created by actors who live and work across the nation. Meryl Streep introduced an "In Memoriam" montage honoring the actors we lost in the past year.
At the ceremony's end, guests walked the short distance through another billowing tunnel into the striking People-EIF Post-Awards Gala tent on the Shrine's backlot, produced by Event Eleven. Continuing the deco theme, the room's black walls were punctuated by art pieces created from golden film reels and illuminated by shaded sconces. Sculptural ceramic vases filled with calla lilies brightened the tables and beverage bars. Above, lush folds of taupe fabric rose to an elliptical black center, echoed in the black and taupe carpet below. Guests conversed on plush brown banquettes, dined on La Cuisine's Asian and American inspired dishes and danced well into the night to the live beat of Impulse and recorded mixes spun by DJ C-Squared's Connor Cruise and DJ Michelle Pesce.